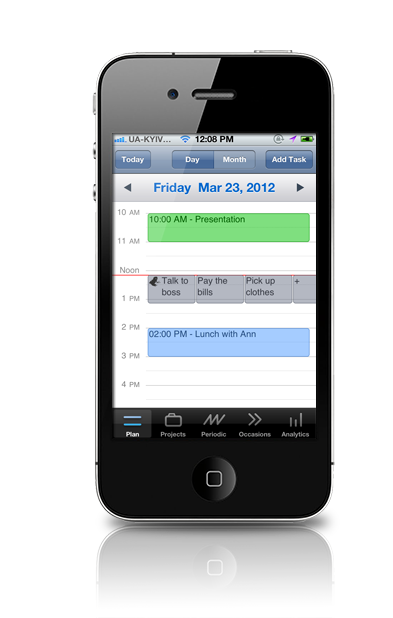 TimeMan
The Ultimate Time Management Solution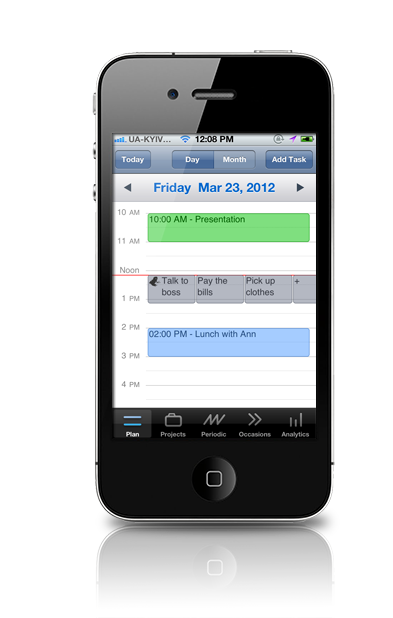 If you need an easy but complete time or personal task management solution - it's here. TimeMan is based on the best time management practices and is designed to accumulate all useful features in one consistent app. You will find everything you need in this app.
Calendar view - clear color coding, clever interface
Task management - from small todos to complex tasks, it's very flexible
Projects support - with innovative time allocation for projects
Recurring tasks - separate tab gives maximum freedom
Occasions - one more convenient way to organize tasks
Analytics - comprehensive stats and estimates
UPDATE: version
1.13.2
(Jan 2021) for iOS 8+ and
macOS
10.15+ is available.
Features
Tips
Add Floating Task

Floating tasks are always stuck to the red line (current time) so you never miss them. On the right side of the red line you will see "plus" button. Pressing it will automatically choose and set next floating task using special algorithm which considers task priorities and project time shares. Its main purpose is to generate prioritized task sequence where project time shares would match desired values and each project would be completed in time.
Frog Task

Frog task is a small unpleasant task which we always want to postpone. Such tasks are better to be scheduled for morning. Automatic task scheduling will do this for you - just set frog attribute for proper tasks and remember the rule: "each morning eat at least one frog and be happy for the rest of your day".
Elephant Task

Set Elephant attribute for complex tasks that need to be divided into smaller parts. Elephant is just a metaphor for complex task. You can create subtasks inside an elephant-task. Then you can see estimated time of completion for each elephant on Analytics tab.
Recurring Task

There is a separate tab fully dedicated to recurring (periodic) tasks management. You can set any recurrent rule that you wish! Using Periodic table you can easily switch tasks on/off for certain dates by tapping them. Also you can deactivate recurring task for some period of time if needed. Working with recurring tasks has never been so easy!
Related
There is possible to concentrate into playing game by leaving counting for machine.